---
Fall is the season we associate with change, a celebration of charming colors that welcomes in new growth and prosperity. It's no wonder that so many brides take inspiration from this season when planning their big day! Below are our favorite fall color schemes that will give any wedding a classy and captivating touch.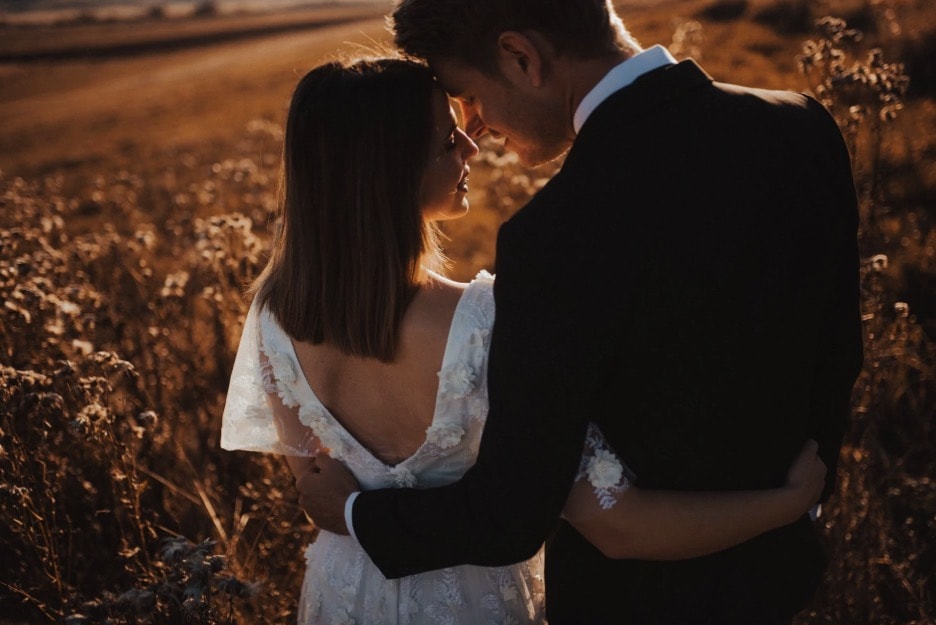 Season's greetings: fading greens
Setting off our classy fall color schemes are the combinations inspired by the start of the season. Gorgeous greens complemented with striking accents are believed to be a huge trend in 2020!
1. Olive green and black
The yellow-green of ostentatious olive contrasts well with bright black, presenting an elegant and unexpected pretty pair. Dignified and dashing to say the least!
2. Sage green, rust, beige, and gold
Sage green is thought to be a popular choice this year, pairing well with most fall colors. We propose rich rust, gold accents, and some beautiful beige to make this look completely captivating.
3. Mustard, forest green, wood, and navy
This natural color scheme of deep greens and blues with a range of browns is gorgeous. Add the shine of vibrant mustard yellow and we have the perfect balance of bouncy brightness and natural beauty.
Mid-fall: enriching oranges
The next four color schemes take us into the middle of fall, boasting some beautiful bouquets of playful pinks, pretty peaches, and deep oranges. These fabulously feminine palates pair well with cool blues to balance a resplendent look.
4. Dusty rose and dark teal
A feminine and sophisticated color scheme, dainty dusty rose contrasts perfectly and harmoniously with the boldness of dark teal. This duo is a true treat to look at.
5. Golds and navy
The metallic pop of gold, or rose gold for a more feminine touch, sparkles with the strength of navy blue. This is an incredibly chic look of minimal majesty.
6. Pumpkin, peach, cornflower, and beige
Pumpkin provides a pop of warm and rich color while the pale denim blue of cornflower cools the eye. A gorgeous and playful color palette indeed!
7. Rust, blush, and navy blue
Rich and radiant rust grab our attention while navy blue and pink blush balance out a perfect blend of masculine and feminine beauty.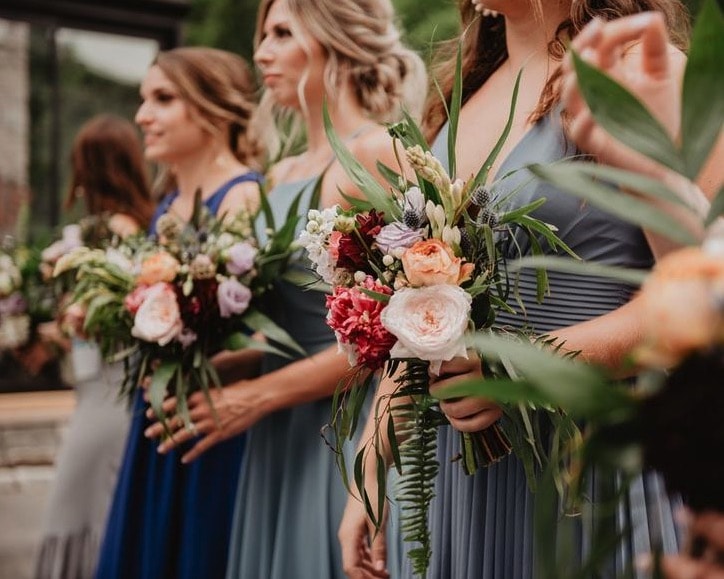 Fall force: radiant reds
We know we are experiencing fall in all its glory when we find ourselves surrounded by the strong and supple spectrum of reds and purples. These color schemes are vivacious and stand out as colors worthy of a special celebration.
8. Garnet, emerald, and pale pink
These brilliant and flattering jewel tones give off feelings of regal elegance, while the softness of pale pink carries the eye over for an enjoyable break from the brightness.
9. Burgundy, peach, and dusty blue
Burgundy is a classic color that is as mesmerizing as changing leaves in the fall. The pinky-orange of peach alongside pale and dusty blue break burgundy's boldness to deliver a perfectly rounded palette.
10. Plum, slate grey, and brown
The dark and rich purple of plum looks so chic with toned-down colors like browns and few drops of dramatic slate grey, adding a playful element to an otherwise classy aesthetic.
We hope this list of classy and captivating color schemes can help make your wedding day everything you want it to be. Wedding unions are wonderful celebrations and we wish the happy couple all the best for their new and exciting life together!