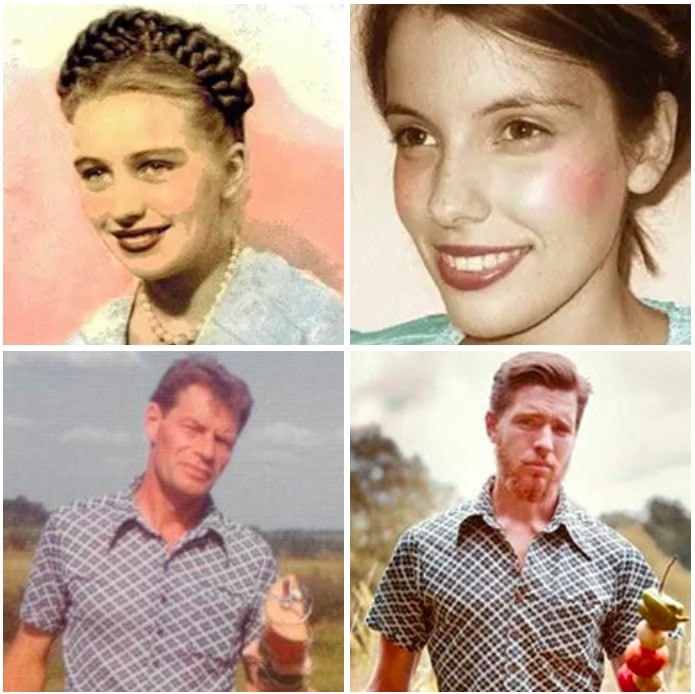 These creative children, grandchildren, and great-grandchildren wanted to honor their grandparents and parents in a heartfelt way – so they did so by recreating some of their most nostalgic photographs from the past. The similarities between some of these people and their ancestors are truly uncanny.
[post_page_title]Similar smirk[/post_page_title]
Here is a photo that proves a remarkably close resemblance between a grandmother and granddaughter. On the left is a picture of a woman's grandmother circa 1944 at the age of 16, and on the right, is the granddaughter recreating the photo more than 70 years later in 2015.
It is truly incredible just how much alike their facial features are, and at first glance one could easily believe it is the same photo.
Pages:
Page

1
,
Page

2
,
Page

3
,
Page

4
,
Page

5
,
Page

6
,
Page

7
,
Page

8
,
Page

9
,
Page

10
,
Page

11
,
Page

12
,
Page

13
,
Page

14
,
Page

15
,
Page

16
,
Page

17
,
Page

18
,
Page

19
,
Page

20
,
Page

21
,
Page

22
,
Page

23
,
Page

24
,
Page

25
,
Page

26
,
Page

27
,
Page

28
,
Page

29
,
Page

30
,
Page

31
,
Page

32
,
Page

33
,
Page

34
,
Page

35
,
Page

36
,
Page

37
,
Page

38
,
Page

39
,
Page

40