The Golden Girls is one of the most iconic shows in American television history. It was nominated for dozens of awards and won more than a few on top of entering top lists of the best and most beloved shows of all-time. Everyone involved in the production of the series deserves all the credit for their work, but in the forefront, four ladies were the face of this incredibly memorable sitcom.
The four starring women were Bea Arthur, Betty White, Rue McClanahan, and Estelle Getty. They portrayed widowed or divorced women from different parts of the country, and alongside their different mentalities and acting histories, it resulted in lots of well-crafted and humorous moments. The show was revolutionary for the time because it had single women in the later part of their lives openly talking about anything from getting older to their romantic and intimate relationships to their love of cheesecake. The show hit home for many and had an avid fan base, with a great deal of them journeying far and wide to see the live tapings.
---
---
As such, although the show featured lovingly warm relationships at its core, it's surprising to learn that the stars of the show for the most part did not get along. In addition to generally tense communications between the co-stars, the women had a few idiosyncrasies that created some truly odd occurrences on set. But being the professionals they were, the various issues the women had didn't affect the quality of the series. Regrettably, though, the women's infighting, on top of clashes with the writing staff, led to the show's cancellation after a seven-season run.
The success of the show made it into a cult classic that's still being recognized decades later. Its favorable status spawned a franchise of many creative works such as spin-offs, local adaptations, and a slew of whimsical fan projects. Through these homages and the original show's groundbreaking themes, The Golden Girls remains in fans' collective memory as a truly timeless piece of television magic. The show has withstood the test of time, and its influence is seen today in the works of writers who came later, who put women of all creeds and ages at the forefront of their work, writing them as fully formed, compassionate and hilarious human beings.
[post_page_title]A young soul[/post_page_title]
Though Estelle Getty played Sophia, Dorothy's mother and the oldest character on the show, she was actually younger than her on-screen daughter. Kudos to the make-up department for making her appear as the mother of Bea Arthur, who was her three months senior. However, Rue McClanahan is the youngest Golden Girl main actress. In addition, and despite being the oldest, Betty White outlived all of her co-stars, and remains a comedy figure many adore from this show and later production.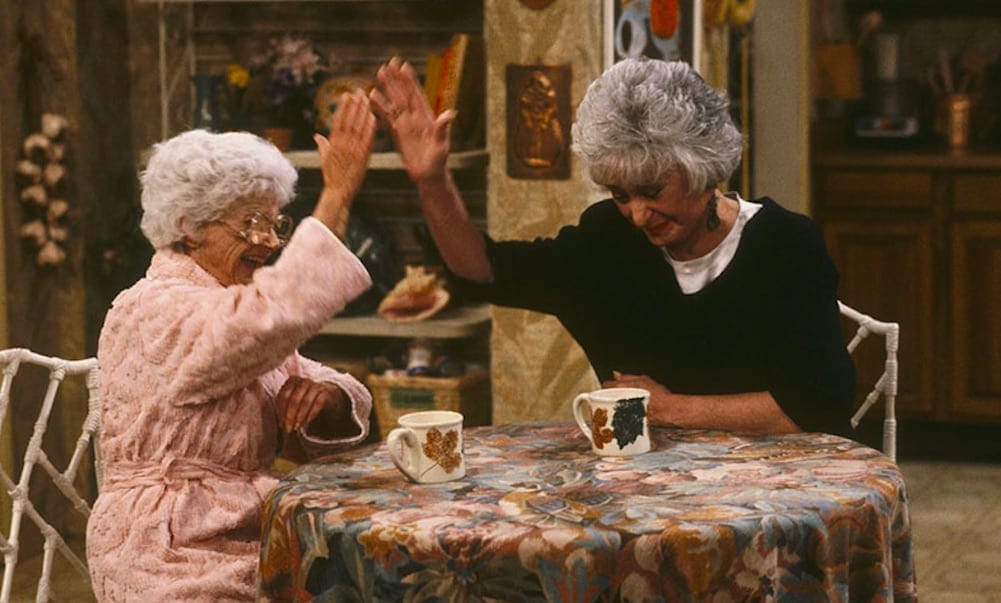 Pages:
Page

1
,
Page

2
,
Page

3
,
Page

4
,
Page

5
,
Page

6
,
Page

7
,
Page

8
,
Page

9
,
Page

10
,
Page

11
,
Page

12
,
Page

13
,
Page

14
,
Page

15
,
Page

16
,
Page

17
,
Page

18
,
Page

19
,
Page

20
,
Page

21
,
Page

22
,
Page

23
,
Page

24
,
Page

25
,
Page

26
,
Page

27
,
Page

28
,
Page

29
,
Page

30
,
Page

31
,
Page

32
,
Page

33
,
Page

34
,
Page

35
,
Page

36